Division of Labor and Industry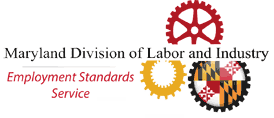 If you are an employer who needs information regarding Maryland Employment Laws, the links below provide copies of Maryland laws and helpful information about the applicability of those laws. They also provide access to fact sheets and posters that may be of assistance. If you are an employee who believes your wages were unlawfully withheld, please refer to the "Wage and Hour Remedies" Link.
Read the Maryland Wage Payment and Employment Guide.
Most documents available in PDF format, download Adobe Acrobat for free
For additional information, contact:
Division of Labor and Industry
(410) 767-2357