Strategic Partnership for Excellence in Construction Safety Program (SPECS) - MOSH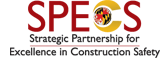 Maryland SPECS Program (Strategic Partnership for Excellence in Construction Safety) is a strategic partnership between the MOSH and the Maryland Chapters of the Associated Builders and Contractors of Maryland (ABC). This multi-level agreement encourages and recognizes ABC members who voluntarily implement highly effective safety and health management systems to benefit construction workers and reduce or eliminate injuries, illnesses and fatalities on construction sites in Maryland.
Active SPECS Sites
Coakley-Williams Construction Inc., Bethesda
Forrester Construction Company, Rockville
Scaffold Resource, LLC, Lanham
Miller & Long Concrete Construction, Bethesda
Gilbane Building Company, Baltimore
Manganaro Midatlantic, LLC, Beltsville
James G. Davis Construction Corporation, Rockville
Turner Construction Company, Baltimore
Delaware Elevator, Inc. Salisbury
Wohlsen Construction Company, Baltimore
Recognizing Maryland employers with exemplary safety and health performance.
---
For further information, contact:
Allen Stump, VPP and SPECS Program Manager
Maryland Occupational Safety and Health
10946 Golden West Drive, Suite 160
Hunt Valley, MD 21031
Phone: 410-527-4469