Division of Labor and Industry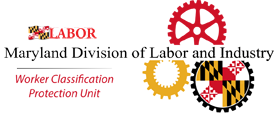 "Workplace fraud" is a serious problem involving employers in the construction (including all aspects of home improvement) or landscaping industries who fail to properly classify workers as "employees." This fraudulent practice denies workers critical workplace protections guaranteed to employees, allows unscrupulous employers to undercut competitors who play by the rules, and deprives taxpayers of critical dollars. If you think an employer is committing fraud by misclassifying its workers, it is important that you let us know. All allegations are taken seriously.
Calificación de protección de trabajadores
"Fraude en el lugar de trabajo" es un problema grave que tiene que ver con los empleadores de trabajo en las industrias de la construcción (incluyendo todos los aspectos de mejoras para el hogar) o de jardinería, que no logren clasificar adecuadamente los trabajadores como "empleados". Esta práctica fraudulenta niega a los trabajadores la protección garantizada de trabajo fundamental para los empleados, permite a los empleadores sin escrúpulos de trabajo para socavar los competidores que cumplen con las reglas, y priva a los contribuyentes de dólares críticos. Si cree que un empleador de trabajo está cometiendo fraude por clasificar erróneamente a sus trabajadores, es importante que usted nos deje saber. Todas las denuncias se toman en serio.
Worker Classification Protection Unit
Division of Labor and Industry
1100 North Eutaw Street, Room 607
Baltimore, Maryland 21201
Telephone: 410-767-9885
dldliwcpu-dllr@maryland.gov