Taking the Exam - Public Accountancy
.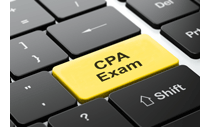 NASBA/AICPA announce score release dates for summer and fall CPA examinations.
Special Announcements:

Prometric will close test centers in the United States and Canada for a period of 30 days
The board has concluded that credits earned at third-party non-educational facilities/businesses are not acceptable for the CPA exam application qualifications. Third-party credits are not acceptable even if they appear on and received credit from ACE or another school or university transcript. They will not be accepted for the exam or licensure application qualifications.
The board will only be accepting applications from individuals who have graduated from a college or a university and have earned at least a baccalaureate degree on or before today's date.
Applicants must request that transcripts include the type of degree conferred and the date of graduation.
Listed below are the services available to applicants and qualified candidates, and information about the Uniform CPA Examination.
FIRST TIME APPLICANTS/REAPPLICATION FOR EXAM QUALIFICATION
Maryland CPA Examination Fees
| | | | | | |
| --- | --- | --- | --- | --- | --- |
| | AUD | FAR | REG | BEC | TOTAL |
| HOURS | 4 | 4 | 4 | 4 | (ALL 4 PARTS) |
| COSTS | $208.40 | $208.40 | $208.40 | $208.40 | $833.60 |
EXAM QUALIFIED CANDIDATES
INTERNATIONAL TESTING FOR NON-U.S. RESIDENTS
Application and Registration Information
INFORMATION FOR EVERYONE
The AICPA and NASBA report the examination scores to the board on a candidate-by-candidate basis and by examination section. The Board notifies each examination candidate by e-mail when each exam score is received.
Note: Passage of the Uniform CPA Examination does not mean an individual is licensed to practice certified public accountancy. Successful candidates must meet business-related education and qualifying practical experience before qualifying for licensure. To check whether an individual is licensed by the Board, check the CPA License Search on this website.