Maryland Occupational Safety and Health (MOSH) - Division of Labor and Industry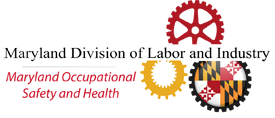 Maryland Occupational Safety and Health (MOSH) works to improve the safety and health of Maryland's working men and women in both the public and private sector by providing consultation services, outreach and educational programs, establishing partnerships, setting and enforcing standards, and encouraging continual process improvement in workplace safety and health. MOSH, with the assistance of the MOSH Advisory Board, develops and proposes rules and regulations designed to prevent accidents and occupational diseases in every occupation or place of employment in Maryland.
Maryland Seguridad y Salud Ocupacional (MOSH) trabaja para mejorar la seguridad y la salud de los hombres y mujeres que trabajan en Maryland, tanto en el sector público y privado para proveer servicios de consulta, difusión y programas educativos, establecer alianzas, establecer y cumplir las normas, y promover el proceso continuo para mejora la seguridad y salud en el trabajo. MOSH, con la asistencia de la Junta Consultiva de MOSH, desarrolla y propone normas y regulaciones diseñadas para prevenir accidentes y enfermedades ocupacionales en cada profesión o lugar de trabajo en Maryland.
SPECIAL ANNOUNCEMENT!
Heat Stress Regional Information Hearings
In accordance with House Bill 722, the Maryland Occupational Safety and Health Administration (MOSH) will host four regional informational sessions prior to developing and adopting regulations to protect employees from heat-related stress in the workplace.
Members of the public are invited to share their input and provide feedback.
Attendees can register by using online - Heat Stress Informational Hearing.
Some facilities may require restrictions based on available COVID-19 statistics.
In addition to these hearings, interested parties may submit written testimony to dli.regulations@maryland.gov.
MOSH Consultation Services
View the transcript of this video (Word)
MOSH is one of 28 OSHA-approved State Plans. State Plans are OSHA-approved job safety and health programs operated by individual states instead of federal OSHA. Section 18 of the OSH Act encourages states to develop and operate their own job safety and health programs. MOSH is funded with federal and special funds.
MOSH has jurisdiction over all public and private sector workplaces in the state with the exception of federal employees; the United States Postal Service; most private sector maritime activities (shipyard employment, marine terminals, and longshoring); and military bases which are covered under OSHA jurisdiction.
Report a Fatality / Imminent Danger
Emergency Phone Number: 1-888-257-6674
Reportar una Fatalidad/peligro inmediato
Número de teléfono de emergencia: 1-888-257-6674
Información General -
410-527-2069
(Ayuda en Español)
Administration/General Information - 410-527-4499
Consultation - 410-527-4472
Operations - 410-527-4447
Outreach/Compliance Assistance - 410-527-2091
Research & Statistics - 410-527-4465
Region I :Eastern Shore Counties - 410-819-5860
Region II: Industrial Hygiene all MD Counties - 410-527-4499
Region III: Baltimore City, Baltimore County South of Shawan Road - 410-527-4426
Region IV: Allegany, Frederick, Garrett, Montgomery & Washington Counties - 301-791-4699
Region V: Anne Arundel and Howard Counties - 410-527-4424
Region VI: Calvert, Charles, Prince George's, & St. Mary's Counties - 301-883-3361
Region VII: Baltimore County North of Shawan Road (Hereford Zone), Carroll, Harford and Cecil Counties – 410-527-4434
---
Division of Labor and Industry
Maryland Occupational Safety and Health (MOSH)
10946 Golden West Drive, Suite 160
Hunt Valley, MD 21031
Phone: 410-527-4499
Fax: 410-527-4481
e-mail: MOSH.Complaints@Maryland.gov
Directions to the Hunt Valley Training Center