Maryland Apprenticeship Ambassador Program - Maryland Apprenticeship and Training Program (MATP)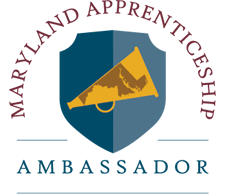 Launched on January 17, 2018, the Maryland Apprenticeship Ambassador Program is an incentive program that raises awareness about registered apprenticeships and encourages job seekers and businesses to engage in apprenticeship opportunities.
Apprenticeship ambassadors demonstrate a high commitment to apprenticeships and/or employ apprentices in their workforce, maintain a high profile in their sector or geographical area, and/or represent a broad membership of workforce stakeholders.
Ambassadors undertake their role on a voluntary basis by cultivating and strengthening relationships with key stakeholders, including students, parents, educators, business owners, elected officials, trade associations, and employment bodies. They advance and support outreach activities and events, raising awareness about registered apprenticeships as Maryland's premiere workforce solution and driving stakeholders to action.
For their commitment, apprenticeship ambassadors receive special recognition from the Maryland Department of Labor customized advice and counsel on navigating the Maryland Apprenticeship and Training Program, the latest in apprenticeship news and emerging workforce trends, and valuable media exposure.
For more information about the program and how to apply, download the Maryland Apprenticeship Ambassador Summary and the Maryland Apprenticeship Ambassador Introductory Letter, or contact Chris MacLarion, Director of the Maryland Apprenticeship and Training Program, 410-767-3969.

Maryland's Apprenticeship Ambassadors