The EARN Maryland Program - Maryland's new workforce training initiative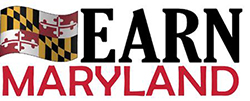 "… if the employers who are looking for talented and skilled people know what skills they have most in demand, then why don't we let our workforce efforts be driven by the sector that has the jobs to fill? So that's why this EARN initiative is pretty new for us as a State. It is the wave of the future when it comes to workforce development."
---------Maryland Governor Martin O'Malley on the EARN Maryland Initiative, June 12, 2013
Subscribe to EARN Maryland to receive Program updates, learn about upcoming EARN-funded Training Opportunities, and more!
Highlights
On Tuesday, September 9, Governor O'Malley visited Pompeian Olive Oil to highlight the EARN Maryland Program. Pompeian, founded in Baltimore in 1906, has hired 17 new employees in 2014 to date, and will host the first full EARN Maryland Manufacturing Boot Camp Partnership training beginning on October 13.

Read more:
Pompeian to Host EARN Maryland Manufacturing Boot Camp, MDBIZ News, October 1, 2014
O'Malley to Discuss EARN Maryland Program, NBC Washington Channel 4 TV, September 9, 2014
O'Malley to Discuss EARN Maryland program, Washington Post, September 9, 2014
First EARN program to launch in Baltimore, The Daily Record, September 9, 2014 (subscription required)

The EARN Maryland Program will be releasing a new Solicitation for NEW Implementation Grant Proposals in early October 2014 (on or about October 10th). Please note: this process is for new Strategic Industry Partnerships only. Current EARN Maryland Grantees will be notified of additional funding opportunities later this Fall / early Winter 2015.

EARN Maryland Pressroom – EARN Maryland Press Releases, and EARN In the News.
What is EARN Maryland?
EARN Maryland is a new state-funded, competitive workforce development grant program that is industry-led, regional in focus and a proven strategy for helping businesses cultivate the skilled workforce they need to compete. It is flexible and innovative, designed to ensure that Maryland employers have the talent they need to compete and grow in an ever-changing 21st century economy.

EARN Maryland aims to:

Address the demands of businesses by focusing intensively on the workforce needs of a specific industry sector over a sustained period.

Address the needs of workers by creating formal career paths to good jobs, reducing barriers to employment, and sustaining or growing middle class jobs.

Encourage mobility for Maryland's most hard-to-serve jobseekers through job readiness training that may include GED preparation, occupational skills development, literacy advancement, and transportation and child care components.
How Does EARN Maryland Work?
EARN Maryland invests in strategic industry partnerships from key economic sectors in every region. These partnerships will use the power of coordination across education, workforce and economic development initiatives to address the multiple needs of companies, starting with the training of skilled workers. Once formed, the partnerships will develop plans to train and educate workers - and place them in meaningful employment.
Get Involved!
Employers and other potential Partner Organizations: Sign up for our exciting web portal, EARN MD CONNECT! - EARN MD CONNECT allows EARN Maryland Partnerships, Partners, and organizations interested in the program to find one another, share information, and collaborate within and between Partnerships. Organizations who work with potential job seekers are encouraged to sign up so that EARN Partnerships may contact you to develop a workforce pipeline.


Individual job-seekers to receive announcement of upcoming EARN-funded training opportunities and recruitment events, SUBSCRIBE HERE. To explore additional employment opportunities, including positions hiring now, we encourage you to visit the Department of Labor, Licensing and Regulation's Maryland Workforce Exchange.


2014 EARN Maryland Implementation Grant Information and Resources - Find information on the inaugural EARN Maryland Implementation Grant process, including the Solicitation for Implementation Grant Proposals, comprehensive Solicitation FAQs, and a recording of a Pre-Proposal Webinar.
2014 EARN Maryland Planning Grant Information and Resources - Find information on the EARN Maryland Program's Planning Grant Process, the 29 Partnerships awarded Planning Grants in January 2014, and presentations on how best to develop a successful industry-led workforce training plan.
EARN Maryland Resource Page - Find information on the EARN Maryland Program's history, Sector Strategies in general, and other states' experiences with similar initiatives.
"EARN Maryland is industry led, endorsed by the Maryland Chamber of Commerce and is a proven strategy for providing Maryland's employers with skilled workers. In Massachusetts, 100 percent of the employers participating in a similar industry-led initiative said that participation in a partnership like EARN Maryland--was indeed valuable. EARN Maryland's strategic industry partnerships are also a proven strategy for workers. Among similar initiatives around the country, this approach led to skills advancement, career building opportunities and increased wages."
---Maryland Department of Labor, Licensing and Regulation Secretary Leonard J. Howie III on EARN Maryland June 12, 2013.