What is SIDES? - State Information Data Exchange - Unemployment Insurance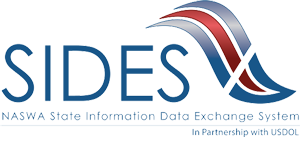 The State Information Data Exchange System (SIDES) is a simple tool to help employers respond to unemployment insurance requests quickly, easily, and accurately. There are two sides to SIDES – SIDES E-Response and SIDES Web Services.
Why SIDES?
SIDES can significantly improve the UI information exchange process. This web-based system meets the unique needs of businesses large and small with these benefits:
Provides for timely responses, avoiding late penalty assessments
Helps ensure the proper decision on claimant eligibility
Reduces staff time, paper work, and postage costs
Reduces follow up requests and phone calls
Ensures protection of sensitive employer and claimant data
Provides an electronic, nationally standardized data format
Includes data checks to ensure the exchange of complete and valid information
Allows attachment of supporting documentation
---
SIDES E-Response or SIDES Web Services?
There are two sides to SIDES: SIDES E-Response and SIDES Web Services (See Comparison).
SIDES E-Response
SIDES E-Response provides an easy and efficient portal for electronically posting responses to information requests and is available FREE OF CHARGE to any Maryland employer with internet access. SIDES E-Response is for employers with a limited number of UI claims.
ALL Maryland employers who are registered to receive e-mail alerts instead of a mailed paper Request for Separation Information form (DLLR/DUI 207) from the Maryland Division of Unemployment Insurance or are completing a Request for Separation Information online using Maryland's NET207 web application will be redirected to SIDES E-Response if you have the following:
Active Maryland Account with a valid Maryland State Employer Account Number
Federal Employer Identification Number (FEIN)
Pending Request for Separation Information
The Internet Key/PIN provided on the paper Request for Separation Information form (DLLR/DUI 207) will serve as the Identification Number/Access Code (PIN) on the SIDES E-Response website.
Reply to a paper Request for Separation Information directly via the SIDES E-Response website. If you use a Third-Party Administrator (TPA) to handle the processing of your employees' UI claims, please consult with the TPA prior to using SIDES E-Response.
SIDES Web Services
SIDES Web Services is for employers and TPAs who typically deal with a large volume of UI information requests. SIDES Web Services provides an automated, "computer-to-computer interface" between the employers' and TPAs' IT systems and that of the state agency.
---
Learn More
---
Getting Started in SIDES E-Response
Please take action to ensure that emails from the Maryland Division of Unemployment Insurance are not blocked or spammed by your internet service provider, email rules or settings, or other system settings. Emails regarding your SIDES E-Response account will be sent from:
DLUIAlerts-labor@maryland.gov with the subject lines:

MARYLAND UNEMPLOYMENT INSURANCE ALERT: Request for Separation Information
MARYLAND UNEMPLOYMENT INSURANCE ALERT: Request for Separation Information REMINDER
System Requirements for SIDES E-Response:
Internet Explorer version 11 or higher
Chrome V44 or higher
Firefox V37 or higher
JavaScript must be turned on
A minimum screen resolution of 1024 x 768
---
Contact Us
College Park Claim Center – 301-313-8037
Cumberland Claim Center – 301-723-2145
Salisbury Claim Center – 410-334-6868
Towson Claim Center – 410-853-1713