Board Business - Heating, Ventilation, Air Conditioning and Refrigeration Contractors
Maryland Board of Heating, Ventilation, Air Conditioning and Refrigeration Contractors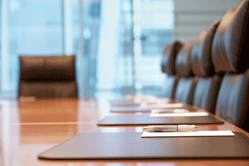 BOARD MEMBERS:
James Johnson, Chair, Master Electrician
Ezio Rebechi, Master HVACR Contractor, Howard County
Jim Berndt, Master Plumber
Fontaine Smallwood, Consumer Member, Baltimore City
Charles E. Smith, Master HVACR Contractor, Frederick County
Michael Biederman, Master HVACR Contractor, Carroll County
Vacant, Consumer Member
Vacant, Master HVACR Contractor
Robin Bailey, Executive Director
Public Meetings
Regular business meetings of the State Board of HVACR Contractors are scheduled for the second Wednesday of each month. They are held at the Department of Labor, Licensing and Regulation, 500 North Calvert Street, third floor conference room and begin at 10:30 a.m. The Board suggests that you check the DLLR calendar or contact us at 410- 230-6231 to confirm date, location, and time. Board meetings are no longer published in the Maryland Register.
The HVACR Board meeting scheduled for May 9, 2018, has been cancelled as there is not a quorum of the Board members available to attend. The next meeting is scheduled for June 13, 2018, at 10:00 a.m. in the third floor conference room.
January 10, 2018
February 14, 2018
March 14, 2018
April 11, 2018
May 9, 2018 (cancelled)
June 13, 2018
July 11, 2018
August 8, 2018
September 12, 2018
October 10, 2018
November 14, 2018
December 12, 2018
Winter Weather Policy for Board and Commission Meetings
If Maryland State Government has liberal leave or is closed due to inclement weather, the Board meeting and any hearings scheduled for that day are cancelled. The Board will reconvene on the next regularly scheduled meeting date and hearings will be rescheduled.