Board Business - Elevator Safety Review
Maryland Elevator Safety Review Board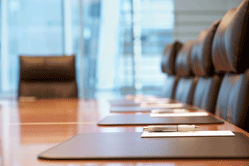 BOARD MEMBERS:
Matthew Helminiak, Commissioner of Labor and Industry, ex officio member
Ed M. Hord, Chair, Architectural Design Profession, Baltimore County
Mike W. Moran, Elevator Interior Renovation Industry, Anne Arundel County
Thomas C. Lindsay Jr., Elevator Servicing Company, Anne Arundel County
Charles E. "Pete" Meeks, Elevator Manufacturing Company, Worcester County
Lance Brown, General Public Member
William "Bill" Hosea, General Public Member
Jason Danker, Labor Member, Baltimore County
Vacant, Municipal Corporation
Vacant, Building Owner or Manager
John Bull, Executive Director
Public Meetings
Regular business meetings of the Elevator Safety Review Board are held at 10:00 a.m. on the fourth Friday of every other month at 1100 N. Calvert Street, Room 121 Baltimore, MD 21201 in the third floor conference room. The Board suggests that you check the Maryland Department of Labor calendar or contact us at 410-230-6231 to confirm date, location, and time. Board meetings are no longer published in the Maryland Register.
Please call 1-470 400 5690 and enter meeting code ‪546 397 236#. If you are having difficulty accessing the meeting, please email John Bull
February 26, 2022 9:30 a.m.
April 23, 2022 9:30 a.m.
June 24, 2022 9:30 a.m.

August 26, 2022 9:30 a.m.
October 28, 2022 9:30 a.m.
December 23, 2022 9:30 a.m.

Winter Weather Policy for Board and Commission Meetings
If Maryland State Government has liberal leave or is closed due to inclement weather, the Board meeting and any hearings scheduled for that day are cancelled. The Board will reconvene on the next regularly scheduled meeting date and hearings will be rescheduled.