Commission Business - Athletic Commission
Maryland State Athletic Commission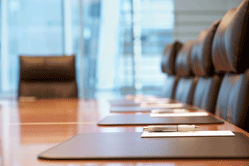 COMMISSIONERS:
David J. Norman, Chairman, Baltimore City
Brian D. Boles, Commissioner, Baltimore City
Charles J. "Chuck" Gast, Commissioner, Anne Arundel County
Leonard E. "Lenny" Moore, Commissioner, Baltimore County
David S. Shull, Commissioner, Baltimore City
Patrick Pannella, Executive Director
Dr. John W. Stiller, M.D., Chief Physician and Neurologist
Olga Escobar, Board Specialist
Public Meetings
Regular business meetings of the Maryland State Athletic Commission are conducted at 1100 North Eutaw Street, Room # 513 Conference Room, Baltimore, Maryland 21201 at 3:00 p.m.. Meetings are open to the public by Google Meet or dial-in only. The Commission suggests that you check the Maryland Department of Labor calendar and contact us at 410-230-6223 to confirm the date, location, and time.
To access a meeting using video conferencing, please go to: Google Meet. To access the meeting by telephone, please call: 615-640-0148; PIN: 803 072 200#.
November 16, 2022 meeting of the State Athletic Commission has been cancelled.
Wednesday, January 19, 2022
Wednesday, February 16, 2022
Wednesday, March 16, 2022
Wednesday, April 20, 2022
Wednesday, May 18, 2022
Wednesday, June 15, 2022 - Cancelled
Wednesday, July 20, 2022 - Cancelled
Wednesday, August 17, 2022
Wednesday, September 21, 2022
Wednesday, October 19, 2022
Wednesday, November 16, 2022 - cancelled
Wednesday, December 21, 2022