Maryland Apprenticeship Ambassador Program - Maryland Apprenticeship and Training Program (MATP)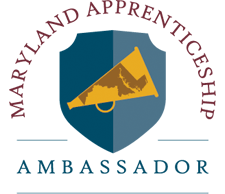 The Maryland Apprenticeship Ambassador Program, originally launched in 2018 to raise awareness about registered apprenticeships and encourage job seekers and businesses to engage in apprenticeship opportunities, was reintroduced at the Maryland Apprenticeship Awards 2022 celebration. The Maryland Apprenticeship and Training Program (MATP) selects Apprenticeship Ambassadors in recognition of their dedication to advancing apprenticeship as Maryland's premiere workforce solution.
During the two-year term, Apprenticeship Ambassadors volunteer their time to cultivate and strengthen relationships with students, parents, educators, business owners, elected officials, and other stakeholders, to expand use of the apprenticeship model. Terms were renewed for five outstanding Maryland employers, sponsors and partners who were recognized in the first cohort of the Apprenticeship Ambassador Program. An additional 15 Ambassadors were announced at the 2022 Awards celebration.
For their commitment, apprenticeship ambassadors receive special recognition from the Maryland Department of Labor, customized guidance on navigating the MATP, the latest in apprenticeship news and emerging workforce trends, and valuable media exposure.
Apprenticeship Ambassadors for 2022 – 2024

Established Apprenticeship Ambassadors - Renewed Terms

New Apprenticeship Ambassadors

Associated Builders and Contractors (ABC) Baltimore

International Brotherhood of Electrical Workers Local 24

Independent Electrical Contractors, Chesapeake

Plumbers and Steamfitters Local 486

Chesapeake Bay Maritime Museum

Harford County Electrical Contractors Association

Heating and Air Conditioning Contractors Association

Howard County Government Joint Apprenticeship Committee

Plumbers Local 5 Joint Apprenticeship and Training Committee (JATC)

Sheet Metal Workers Local 100 JATC

Southern Maryland Electric Cooperative

Steamfitters Local 602 JATC