Advisory Council Business - Cemetery Oversight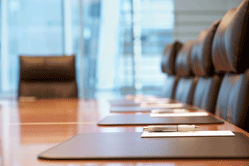 ADVISORY COUNCIL MEMBERS
The council is composed of 12 members appointed by the secretary of Labor and includes five consumer representatives:
Erich March, For-Profit Representative-Cemeterian
John (Ron) Pearcey, Nonprofit Representative-Cemeterian
Walter Tegeler, Monument Company Representative
David Zinner, Consumer Member
Bruce Hultquist, Religious Representative
J. Michael Bennett, For-Profit Representative-Cemeterian
Yvonne Fisher, Consumer Member
Craig Huff, For-Profit Representative-Cemeterian
Frank Porter, Chair, Consumer Member
Rebecca Bailey, Crematory Representative
Christopher Palmer, Consumer Member
Vacant, Consumer Member

Deborah A. Rappazzo, Executive Director
Public Meetings
The Advisory Council on Cemetery Operations is required to meet at least four times per year to advise the secretary of Labor and the executive director on issues related to the regulation and administration of the office. Interim meetings will be scheduled as needed.
The next Advisory Council meeting will be held virtually at 10:00 a.m. Specific Meeting dates are identified in the Meeting Dates box below.
To access the meeting using video conferencing, go to Google Meet
To access the meeting by dialing in from a phone: ‪(US) ‪+1415-737-9563‬
PIN: 991991730#‬
All meetings are open to the public.
January 26, 2023 Virtual
March 23, 2023 Virtual
June 22, 2023 -

CANCELLED
August 1, 2023 Virtual
September 28, 2023 -

CANCELLED

October 26, 2023
December 7, 2023
February 17, 2021 Winter Weather Policy for Board Meetings
Due to the pandemic, Board meetings are being held virtually until further notice. Meetings will continue as scheduled even if State Government is closed or has liberal leave due to inclement weather.