Pre-paid Debit Card - Unemployment Insurance
IMPORTANT: Please note that the department is transitioning from paying unemployment insurance claimants their benefits with a Bank of America debit card to direct deposit or paper check through Wells Fargo. Claimants will begin receiving their benefit payments via direct deposit or paper check in May 2021. Find more information about the transition and next steps claimants need to take.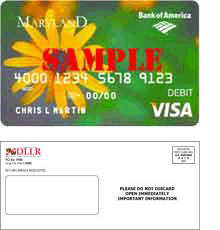 In order to provide benefit payments in a secure and quick manner, the State of Maryland issues unemployment insurance benefit payments with the Maryland Unemployment Insurance (UI) Benefits Debit Card. If you wish to receive your benefit payments by having a paper check mailed to your address instead, please call:
667-207-6520 (outside of Maryland or within the Baltimore-metro calling area);
Otherwise, call 1-800-827-4839 to request this option.
This Visa® debit card is issued through Bank of America. There is no activation fee or purchase fee to use the Bank of America Visa® debit card. View additional disclosures about the debit card.
If your Ul payments are not approved, you will not receive a debit card. Some reasons that could prevent you from being approved for payment are: you do not have sufficient wages to be eligible; you have been denied Ul benefits; or you have not filed a timely continued claim (request for payment). You will also not receive a debit card if you choose to receive your benefit payment by paper check.
If your Ul payments are approved, you will receive a notice entitled "Notice of First Benefit Payment Approval and Mailing of Your Bank of America Benefits Debit Card." You will then receive your debit card within 7-10 days. The card will arrive in a WHITE envelope with the State of Maryland flag and a Gray, Tennessee return address in the upper left-hand corner. Once you receive your card, you may access your first payment. If you continue to meet all of the eligibility requirements of the Maryland Ul Law and file timely continued claims (request for payment), you will have a safe and convenient way to receive and access your Maryland Ul benefits. Your Bank of America Debit card is valid for three years.
To access your funds with your card, free of charge, you can:
Access cash through bank tellers at any bank that accepts Visa.
Withdraw cash from a Bank of America ATM fee free.
Get cash back at select retail point-of-sale locations.
Make purchases through signature or pin-based transactions.
Make 6 fee free withdrawals per month using an ATM outside of the Bank of America ATM network. The owner of the ATM may charge a fee.
You also have the option of having your UI benefit payments transferred from the debit card to your personal bank account. Bank of America will include instructions for choosing this option when you receive the UI debit card package. You must have an e-mail address in order to transfer funds into your personal bank account.
You will also have the option of having your Ul benefits paid by a paper check mailed to your address. You may choose the paper check option when you initially file for benefits or you may choose the paper check option after you have been approved for benefit payments. Your address must be up-to-date and correct in order to receive a paper check.
Report any address change immediately to the Division of Unemployment Insurance ONLY, by calling 667-207-6520 or 1-800 827-4839 (from outside Baltimore area but within Maryland).
When you receive the card, for security purposes, be sure to immediately sign your name on the back of the card in ink. You cannot use the card until it has been activated. To activate your card and create a PIN, you must call Bank of America at 1-855-847-2029; TTY 866-656-5913. PLEASE DIAL CAREFULLY! Choose a PIN that only you would know. Never share your PIN or your card with anyone. You will be held legally responsible for all activity connected to the card.
Important: DO NOT THROW AWAY OR DESTROY your debit card if you stop filing for UI benefits as the card is valid for a three (3) year period.
ADDITIONAL DEBIT CARD INFORMATION
Stopping criminals
Sometimes criminals will try to trick individuals into disclosing personal information in a text, email or on a phone call. Phony emails may direct you to a fraudulent website that looks like a Bank of America website. These phony emails may even ask you to call a phone number and provide account information. Please remember that:
Bank of America will never ask you in an email or text to disclose any personal information, such as your Social Security Number, PIN (Personal Identification Number) or Prepaid Card Number

Offers that sound too good to be true often are. You may be asked to fill out a short survey in exchange for money being credited to your account at the account number you provide. Bank of America will never request your information in this way

Claims that your account may be closed if you fail to confirm, verify or authenticate personal information are not from Bank of America
If you receive a suspicious email or are directed to a website that also looks like Bank of America, report it to abuse@bankofamerica.com and then delete the suspicious email.